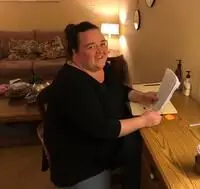 I enjoy working with individuals, couples and families that are struggling with various areas including anxiety, depression, relationship and family problems, stress, and grief. Although it can be difficult to speak to others about these problems, I do believe it is important to discuss them. Exploration of these issues can help build a foundation for a better future and serve as an opportunity to assess and strengthen your existing attributes and qualities. From the beginning of my career, I've helped my clients break through the obstacles that seem to be holding them back in life and encouraged them to develop a greater understanding of themselves. I am here to help my clients achieve a more positive outlook on life and to provide them with all the tools necessary to help get them to their goals. I have encouraged clients to understand and use the power they have and to help them find a path to healthier choices.
Throughout our time together, you and I will identify goals that are important to your well-being (psychological, physical and social) and move towards achieving these goals. The aim of our relationship will be to improve your overall quality of life and decrease the intensity, frequency and duration of symptoms you have been experiencing. I will aim to make you feel comfortable, safe, and supported while also challenging you to overcome negative cyclical behavior patterns. Together, we will learn and develop ways to handle the issues that are standing in the way of your goals of well-being.
I am an Oakland University alumnus with a Master's Degree in Counseling and a Bachelor's Degree in Psychology. I am currently a Licensed Professional Counselor and Limited Licensed Marriage and Family Therapist through the state of Michigan. I have additional training in child counseling and clinical supervision for LLPCs. I have been a member of several professional organizations including: Michigan Counseling Association, Michigan Association of Marriage and Family Therapy, Chi Sigma Iota, National Board of Certified Counselors and American Counseling Association. I have years of experience working in both outpatient and community mental health facilities, as well as in hospice.
I accept private pay and the following Insurances:
Blue Cross Blue Shield
Please inquire about other insurances. I am also open to working on a sliding scale.
If you would like to schedule an appointment with me or have any additional questions, please contact me directly at (248) 690-6851 or [email protected]